Monthly Archives: February 2012
With a couple of whirlwind days/nights the song "Bridge of Freedom" has made it to completion. This past Thursday found Keith Wilson, long-time friend and musician, in the studio once again laying down a couple of passes on acoustic guitars. Keith has played in a number of bands over the years and always brings excellent skill, ideas and a variety of instruments to any session – and along the way is a joy to work with.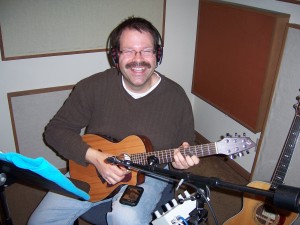 Following those recordings Deb re-sang her vocals and delivered a very fine and passionate performance of the story being told. My friend Allyn came by later in the afternoon and hung around until late as the three of us poured into the extensive mixing which included the skilled orchestration and piano tracks Tim Tyler had delivered earlier. Allyn had a couple of great ideas that were incorporated and while most of you slept the song was delivered electronically to the awaiting recipient. Until it's all official how the song is being used we're not spilling the beans yet, but hopefully we'll able to real soon. The response so far has been overwhelmingly positive and it'll be great to open the lid for you to hear it.