This past week in Le Mars, IA the Stangl Family and Rayne Magill were awarded "CD of the Year" awards at the National Traditional Country Music Association annual festival. The awards were presented by Director Bob Everhart and were chosen by the Rural Roots Music Commission. Each award represented a different music category.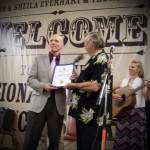 The Stangl Family received their award for "Telling His Story" as Vintage Gospel CD of the Year,
and Rayne's CD, "Thank You Lord" achieved Home Grown Gospel CD of the Year. Congratulations on being chosen for these honors and allowing Tesco Productions to be part of the process. These awards represent the 3rd and 4th "CD of the Year" awards that were recorded here, and it was a privilege to work with you all. I know you all desire to return true honor to God – who provides each of us with talents and skills as He designs.