An annual Christmas tradition originating from Community 360 (Desert Ministries in the beginning) was presented once again in December. The musical numbers and a recitation showcased from the The Salvation Army KROC Center in SE Omaha. Community 360 serves many seniors and their care providers in this area, and the event is held for all of them to enjoy. A number of area care centers brought vans of folks who for some this is all the Christmas they were going to experience.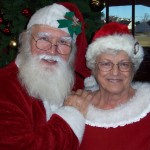 Not only has Santa disappeared from their imagination (Mr. & Mrs. Claus greeted them none the less), their daily life has little to envision either.
With a close family member having spent the past year in a care facility, I have a new understanding of what it can be like. When visiting there it was always amazing to see how a smile, a kind word, or even just an acknowledgement a person existed could have such an uplifting impact on their demeanor. On occasion I would walk to the dining area during meal times, go to the keyboard and play some old hymns, seasonal songs or tunes they knew and requested (when I could remember them or find the music). The serving staff and residents seemed to find some additional spice for their spirit that day.
And so the lights dimmed, the stage was lit, the music played and the snow fell (yes, inside) as Christmas once again rang out for our elders. While the audience waited for their return transportation, Kyle Knapp and John Rogers entertained with their guitars and vocals in the seating area. I met someone during that time I hadn't seen for a number of years, and although she no longer remembered who I was, I hope she was blessed and encouraged in a celebration of her Saviour's birth.